Click here and follow these directions for a free collage, free 8X10 print, and 50 free photo prints.
(1) Click the yellow button that says "Create a Mug". (I know, we're not creating a mug.)
(2) Fill in your info and click the yellow button that says "Go Fish"
(3) Now you'll see "50 Free Prints, Upload Now"
(4) Click "Order Prints" and you'll see that you have a credit for 51 free prints
(5) Select the photos you want to order and click "Add to Cart"
(6) select your 50 4×6 prints and 1 8×10 print, then click the grey button "back to photos" at the bottom of the page
(7) Click "My Account" in the upper right corner
(8) Find the Grey box in the upper right titled "Snapfish Credits & Offers" and click "redeem" next to the 11×14 collage poster.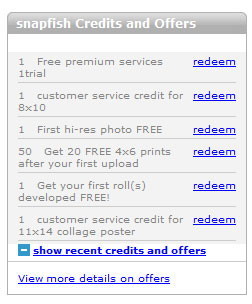 (9) Create your collage poster by selecting the 11×14 size
(10) Your shopping cart total should be zero as you click the yellow "Checkout" button.
(11) Enter your shipping info and under "coupons and gift certificates" enter codeHPDADSAVINGS.
(12) Your order will process, but it's not final yet. Next you'll be taken to a page that looks like this, showing your total as $0.00. Just click "Buy Now!"